These are areas of thickened skin that develop over high pressured  areas, a corn differs from a callus as it has a hard centre core .  They can occur anywhere on the foot and tend to be painful.  We can reduce and enucleate the callus and corns and advise on prevention.
We have close relations with other local professions in the area including General Practitioners, Booker Avenue Physiotherapy Centre and Mr. Tommy McDonough (Bio-Mechanical Specialist) at Liverpool Podiatry, with our expertise we know when and who to refer you to if the need is there.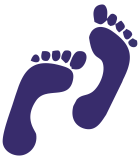 We provide a full range of podiatry and chiropody services in the Liverpool area of Merseyside.